THE BEGINNING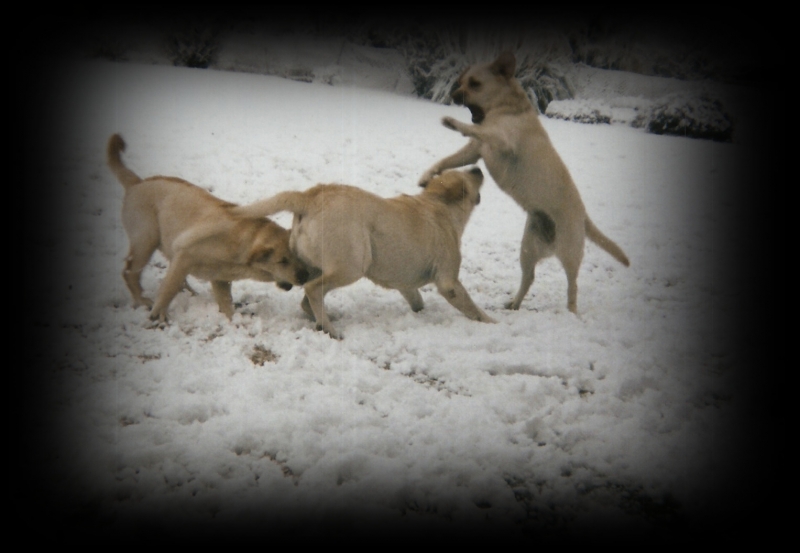 Rocky, Winston and Pebbles
My name is Lizette and I started my journey with Labradors in 1994 when my husband and I moved to Kestell in the Eastern Free State. Once there, I met a wonderful lady called Margaret Bell from the Ailsacraig Labradors. I initially visited Margaret to purchase a pony for my son and was introduced to the most beautiful Labradors whom I immediately fell in love with.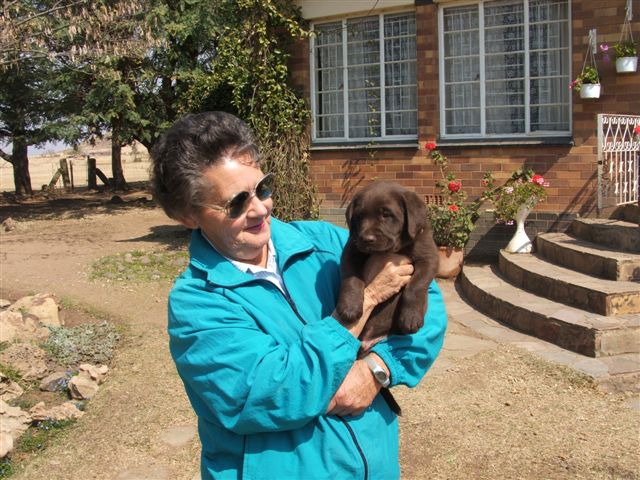 Margaret
My involvement started when I helped Margaret, who at that stage became a very dear friend, with designing a five generation pedigree of all the dogs in her kennel. When Margaret planned a litter with Ailsacraig Topstar (which I started showing when he was nearly four years old and was made up as a champion) and Ch. Rodare Magical Sparkle, I immediately booked a puppy Ailsacraig Sparklin Spirit lovingly called Pebbles.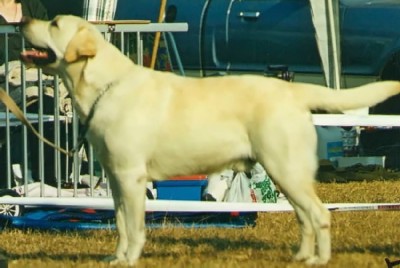 CH. AILSACRAIG TOPSTAR
(WINSTON)
Pebbles changed my live in so many ways imaginable. I started showing her and won 3 CC's and 8 RCC's with her. I then got Rocky (Rodare Rocky Ranger at Lambrada), which was bred by Margaret's daughter Debbie, from the Rodare Kennel. He was entered as a puppy in only four championship shows and took his first CC at the tender age of only 6 months. He won BOB Puppy in all four shows and a Best Puppy in Gundog Group age 7 months.
Rocky's total achievements: 4 BOB Puppy, 1 BOB Puppy in Gundog Group, 4 CC's, 2 BOB's, 2 Reserve BOB's and also winning the Progeny Trophy at the LRKC Championship show in 2005.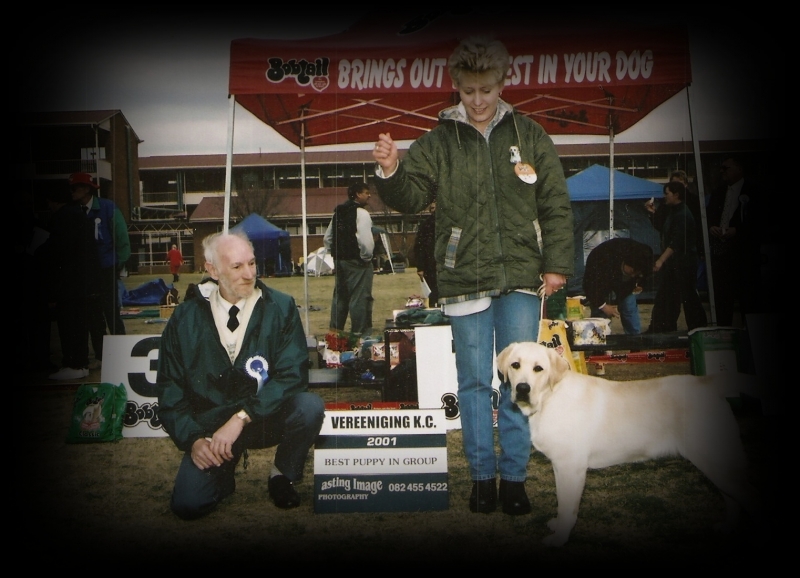 Rocky - Best Puppy in Gundog Group
What a treasure!!!
In 2001 we moved to Leeudoringstad in the North West Province with Pebbles expecting her first litter from Ch. Lombardy Black Shadow at Ailsacraig. Pebbles was the foundation bitch in my kennel with all the qualities, type and temperament I wanted in my Labradors.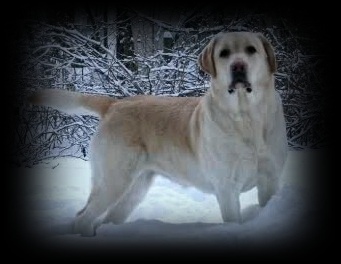 Pebbles's Grand daughter Roxanne
Dam: Lambrada Venus
Sire: Lambrada Dreamboy Barku of Ablesing
During 2006 I purchased my first Chocolate Labrador from Dirk and Cornelia Bakkes of the Dirnelia Labrador Kennel in Delmas, called Dirnelia Sumara at Lambrada. Dirk and Cornelia became very dear friends and all my chocolate's except one bitch, as well as a yellow male (Chumba) and a black bitch (Jenny)came from their Kennel. The foundation chocolate bitches from my kennel are all daughters of Ch. Carriegame Bobby Dazzler of Dirnelia (Jenny (mom is Treburrow Jenny's Star of Dirnelia), Jenna (mom Kirdneh Just Ounooi of Dirnelia), Jenna and Safera (mom Dirnelia Sonador) except for Sumara which is a Boothgates Mud Wrestler of Dirnelia daughter. Many thanks to Gail Dodd from the Carriegame labbies for such a wonderfull boy. My Stud for all these bitches are Dirnelia Eragon Pride at Lambrada. What a treasure. He is from Boothgates Mud Wrestler of Dirnelia (UK Imp) and Starshine Sasha of Dirnelia, a daughter of Ch Trevena Tantalite, called Tom, a beautifull black boy from Di Holman's kennel) He is a very special boy, even thinks he can still sit on Mommy's lap eventhough he is quite a BIG boy. He has the most wonderfull temperament and good looks that you could ever wish for in a Labrador. Thank you Boothgates for such a wonderfull son of Mud Wrestler (Sersant), (Dirk's pride and joy being his first import and the chocolate that hooked me on chocolates!)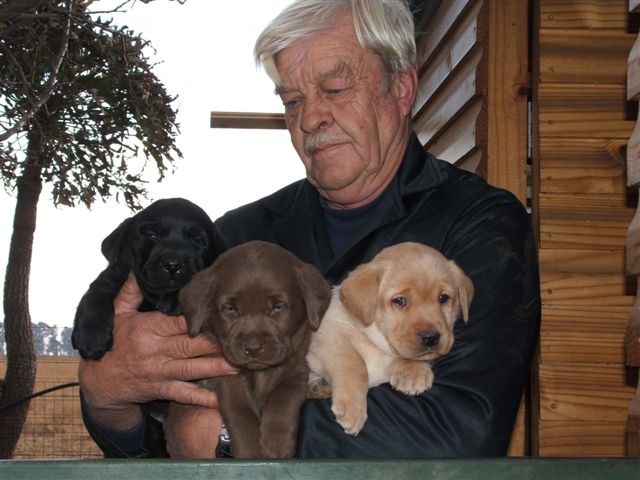 Dirk (a precious memory) and Cornelia
Temperament and Breed type is the most important components in my Kennel. I only breed with dogs with the wonderful temperament that you expect from a Labrador which sets them apart from any other breed.
Although due to logistical problems I cannot attend championship shows anymore, my labbies are all champions in my eyes and those of the beholder. Come and see for yourself, you will be amazed.